Looking for a specific product?
Chem Max® Corp.
Your online source for quality Oriental and Fine Rug Cleaning Specialties designed for professional cleaners.
View our online catalog of Chemicals, Accessories, and Equipment and then contact us with questions or to place your order.
We also have Material Safety Data Sheets available for download.
Are you are homeowner looking for quality products for in-home use? Visit our Rug Care Directory for a listing of your local service professionals.
Looking for more products?
Download a .PDF file of our entire catalog.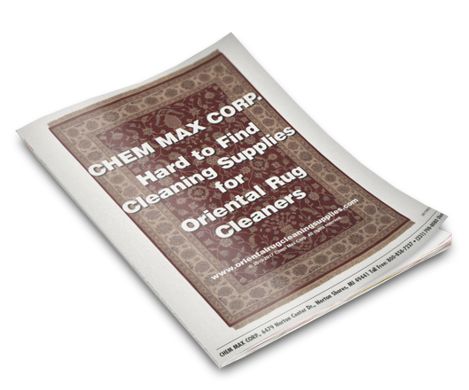 Researching Rug Education Classes?
Here are a few tips from Cameron Mayville, things to consider when choosing a course and instructors.
MasterBlend® and Chem Max® Matchup
Looking for the Chem Max® equivalent to some of the more popular MasterBlend® products? Check out our handy conversion list. Please call us with any questions!
How Do I Clean Silk Rugs? Cautions: 1. Always inspect and pretest. Note all pre-existing damage including: A. Texture change issues B. Color migration issues C. Yarn slippage issues (avoid aggressive over grooming or brushing) 2. Air dusting at high-pressure can carve...
read more
How Do I Clean Moisture Sensitive Rugs Some rugs can be damaged with over wetting. Lower moisture methods can avoid problems with cellulosic rugs that are likely to brown, composite rugs that may have differential shrinkage, latex backed rugs or hand tufted...
read more
Our Location
6479 Norton Center Drive
Norton Shores MI 49441
Our Hours
Monday – 8 am – 5 pm
Tuesday – 8 am – 4 pm
Wednesday – 8 am – 5 pm
Thursday – 8 am – 5 pm
Friday – 8 am – 5 pm
Saturday – Closed
Sunday – Closed
Phone
(231) 798-7980
1 (800) 858-7237
© 2020 by Chem Max. All Rights Reserved.